Dhyana - Meditation Ring
Dhyana brings a meditation ring for you which will helps to reduce your stress.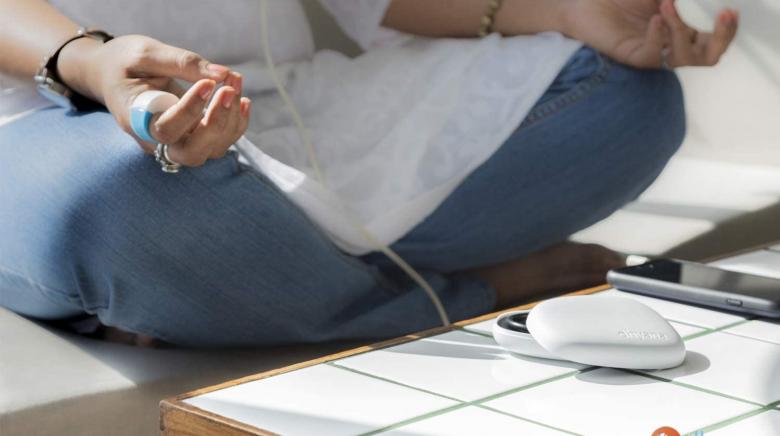 Day by day life gets stressful and the solution for that is only meditation. Meditation helps you to achieve state of mind. It relaxes your mind and you feel the inner peace.
What if technology helps you to meditate and tell your achievement in meditation.
Dhyana brings a meditation ring for you which will helps to reduce your tress by guiding you how to meditate. During meditation it measure your heart beat and analyse your mindfulness.
How does Dhyana measure mindfulness?
When we meditate, biological changes occur in our nervous system, that can be read through the tiny variations in our heartbeat. Like when we meditate on our breathing, the variations go up as we inhale, and go down as we exhale. When we're relaxed, variations in our heartbeat begin to look steady, and when we're focused they begin to move more erratically                          
Features:
Dhyana allows you to pick a meditation session depending on your mood and how you're feeling. So, if you're stressed, anxious or sad, dhyana guided sessions are designed to bring you out of that state and into a state of inner peace. An intelligent guide who gives you instant biofeedback on your meditation session, understands how you are feeling and trains you to focus better. The ring comes with wireless charging and has 24 day battery life.

The ring is made with hypo-allergic materials which makes the ring skin-friendly to wear.

Material: PC ABS; Color: Light Blue; Dimensions: 3.6 cm x 3.3 cm x 3.1 cm; Compatible Devices: App available on android and ios devices

Package Contents: Changeable clasps for different sizes, Carry-Case (includes the ring, the charging dock and the usb cable), Manual.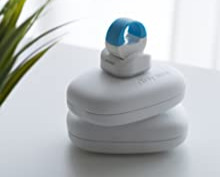 Dhyana is the first and only device in the world that is designed to measure mindfulness. Every time you meditate with one of its meditation sessions—available on the Dhyana app—the Dhyana ring tallies your mindfulness and provides you with a comprehensive report that helps you understand your mindfulness progress. Dhyana helps you reach the goal of 21 meditation minutes a day, so that you can live longer, remain younger, happier and healthier.
Dhyana is a smart meditation ring that you can connect to your smartphone for a guided session of meditation on the Dhyana app. You can choose your session depending upon your mood.