Community and Innovation: An All Day Breakfast Club in the heart of Namma Bengaluru
154 Breakfast Club guarantees great food, unmatched coffee, and the perfect environment for Bengaluru's start-up culture.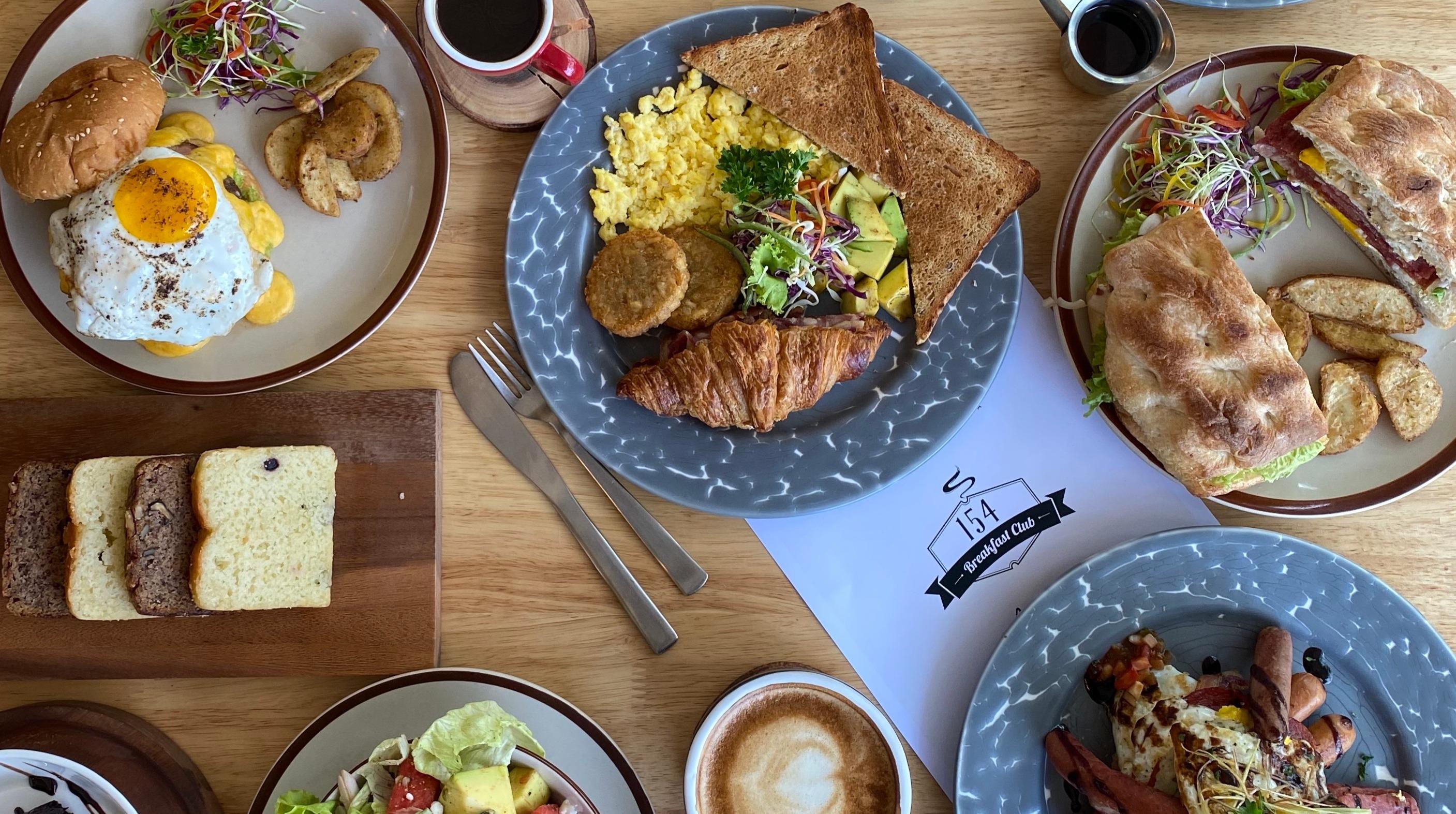 In the southern reaches of the sprawling city of Bengaluru, there is no dearth of restaurants, cafes, street-food stalls, pubs and clubs. For a city renowned for food and pub culture as well as start-ups, even a humble tea stall provides the burgeoning population with space to sit back and relish a chai with a steamy samosa or butter biscuits. If one listens closely, drowning out the incessant din of vehicular traffic and seemingly endless public construction works, the conversations at every table or footpath gathering are never banal. Ideas for the next best start-up or an unfortunate bug in the code are plentiful and they deserve a space more conducive for innovation than the cacophonous setting of a Bengaluru street. 154 Breakfast Club provides just that. 
The British-Bengaluru Hybrid in 154 Breakfast Club
The brainchild of Nishyarth Prasad, 154 Breakfast Club was founded 6 years ago with an express intention to give back to Bengaluru what the city has so graciously provided to its 12 million inhabitants. Even the mission statement attests to this spirit:
"We want to bring Bangaloreans together to enjoy what is unique to our city - our singular sense of community."
A rare native of the metropolis, Nishyarth returned from extensive travels teeming with ideas for a restaurant venture; one which not only pays homage to global food culture but also to the hospitality and metamorphosis of Bengaluru. 
While many restaurants attract profits from their whimsical or intercontinental spread of cuisine, 154 Breakfast Club aimed to retain the simplicity of old Bengaluru, a quaint town with an indelible colonial history. It was on holiday in London when Nishyarth noted the simple yet wholesome vibe of a full English breakfast which, for those turning a blind eye to the time or day of the week, can even be followed with a refreshing pint of ale. Replicating the authentic elements of a British breakfast with a unique Bengaluru aura was one step closer to reality when the founders chanced upon an old house in a quiet corner of Koramangala. However, the concept still required a name and the property number of 154 etched into the compound wall was the perfect place to start.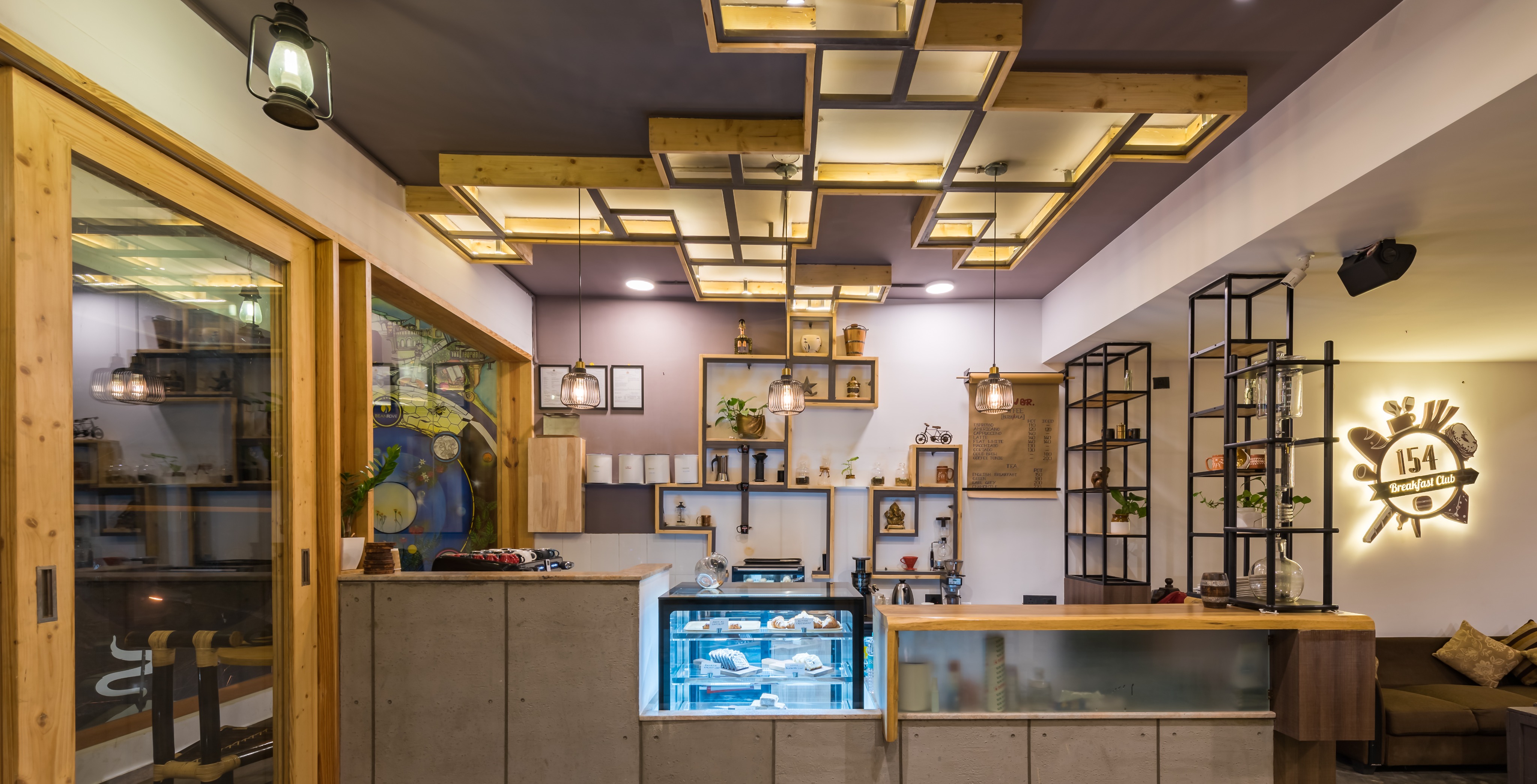 It's Bengaluru. It's Breakfast. Should be simple enough to slap on a cafe after the number, right? 
Not wishing to settle for the mediocrity of 'cafe,' Nishyarth hoped for a name that would mirror his aspirations to provide a communal and holistic space to its patrons. The answer was found in 20th-century cinema. Inspired by the Breakfast Club and Breakfast at Tiffany's, films centred around bringing together the eccentric protagonists, it seemed only natural to opt for club. Unlike the colonial clubs of Bengaluru which boast decade-long waitlists, 154 Breakfast Club would provide a communal space for innovation in an atmosphere of exclusivity without any superficial disposition. 
154 Breakfast Club's New Location and Expanding Ventures
At the heart of small businesses is an unceasing desire to grow without losing loyalty. For 154, the 500-meter journey to the new location was also accompanied by a more diverse menu based on client feedback. Although Nishyarth is steadfast in his belief that his Breakfast Club will prioritise authentic breakfasts with hearty portions of pork, beef, chicken and made-to-order eggs, the menu has since expanded to include delectable vegetarian options.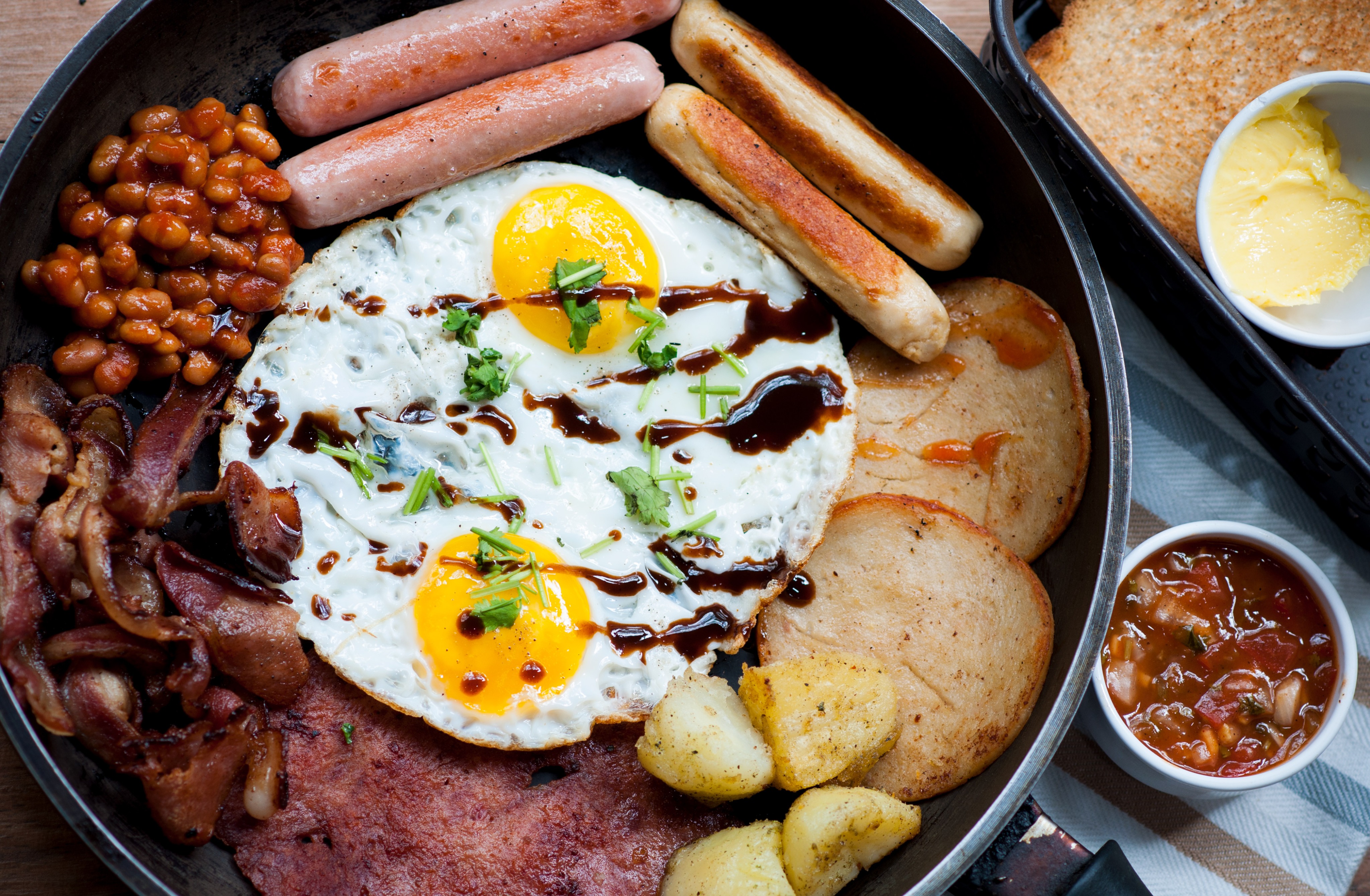 And for those who might prefer a main to beans, toast, eggs and sausages, the range of juicy burgers and refreshing salads made with local ingredients offer scrumptious options for everyone at the table. With an outstanding display of banana loaves, pastries, pies and tarts, 154 might just be a strong contender for the perfect coffee date venue.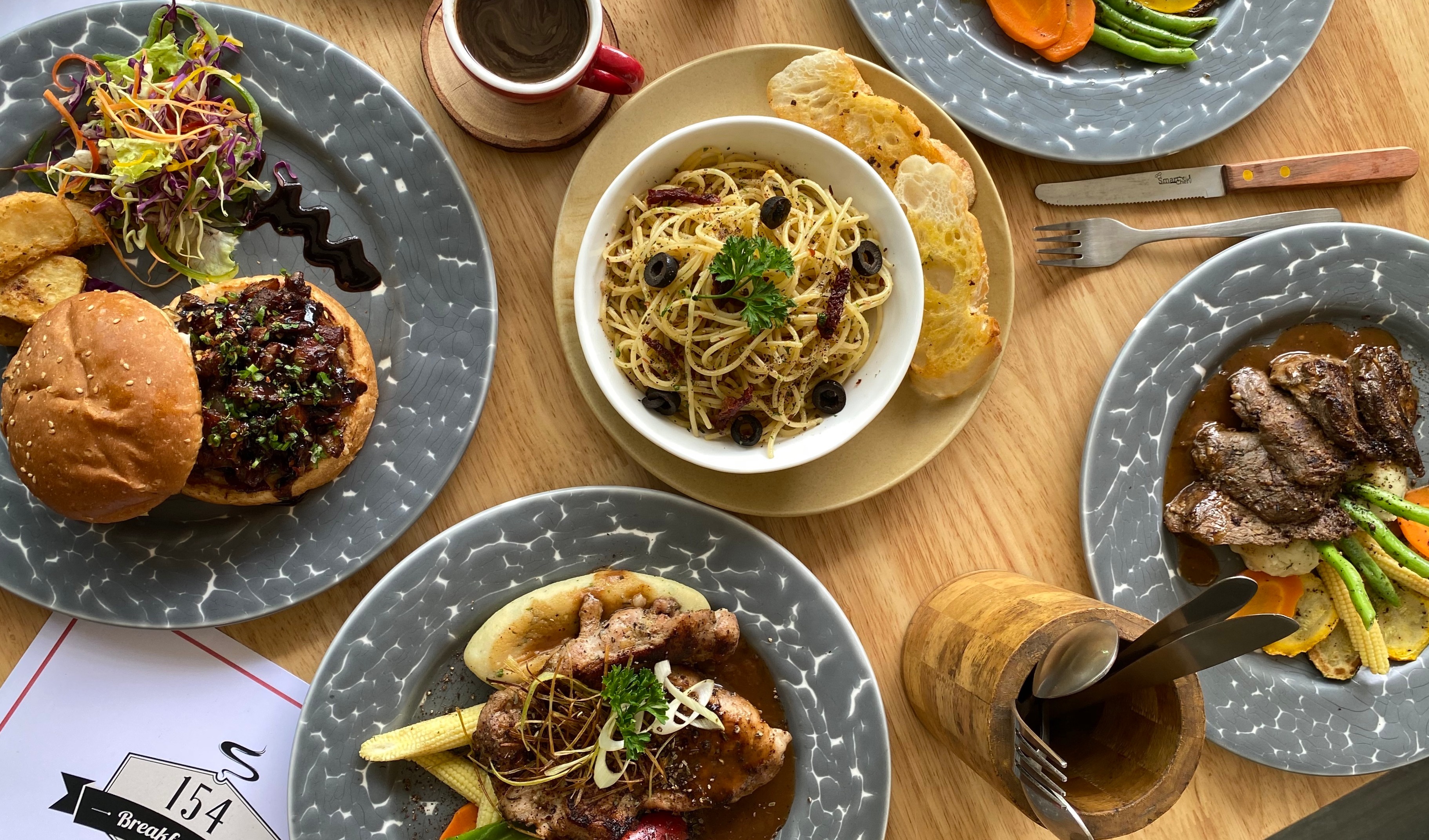 Almost impossible as it seemed to find an end to the mouth-watering array of dishes being listed out, Nishyarth stopped with a laugh to add how "breakfast will only be complete with a perfect cup of coffee."
However, no ordinary blend would suffice. From the launch, 154 Breakfast Club has offered a host of high-quality, specialty roasted coffee exclusively curated by Beanrove Coffee Studio. Even if one may struggle to ascertain a perfect roast (and the cafe is replete with options), Nishyarth's roots in the coffee estates of India, supplemented by the knowledge of Beanrove, can assist every individual in selecting an aromatic brew catered to their taste. In fact, 154 is now looking to launch an intimate coffee tasting bar and experience centre at its new venue. Customers can grind, cup, and taste an assortment of coffees offered by Beanrove for consumption in-store or even substantial grammage for brews in the comfort of one's home. 
Preparing great flavours and unmatched cuppas is not without a catalyst. The origins of 154, similar to the cuisine offered, may be found over thousands of miles away. Nishyarth met Shravan D.S., the founder of Beanrove, in Toronto in 2017 and their love for great food and drink sparked an entrepreneurial fire that continues to warm the coffee and food in Bengaluru today. Yet, the association goes beyond profits and business ventures. In true Indian spirit, they chanced upon each other through family. 
"Family is key to everything. Sure, we're planters from coffee estates but we're also brothers," says Nishyarth, one of few who contest notions that family and business should never mix.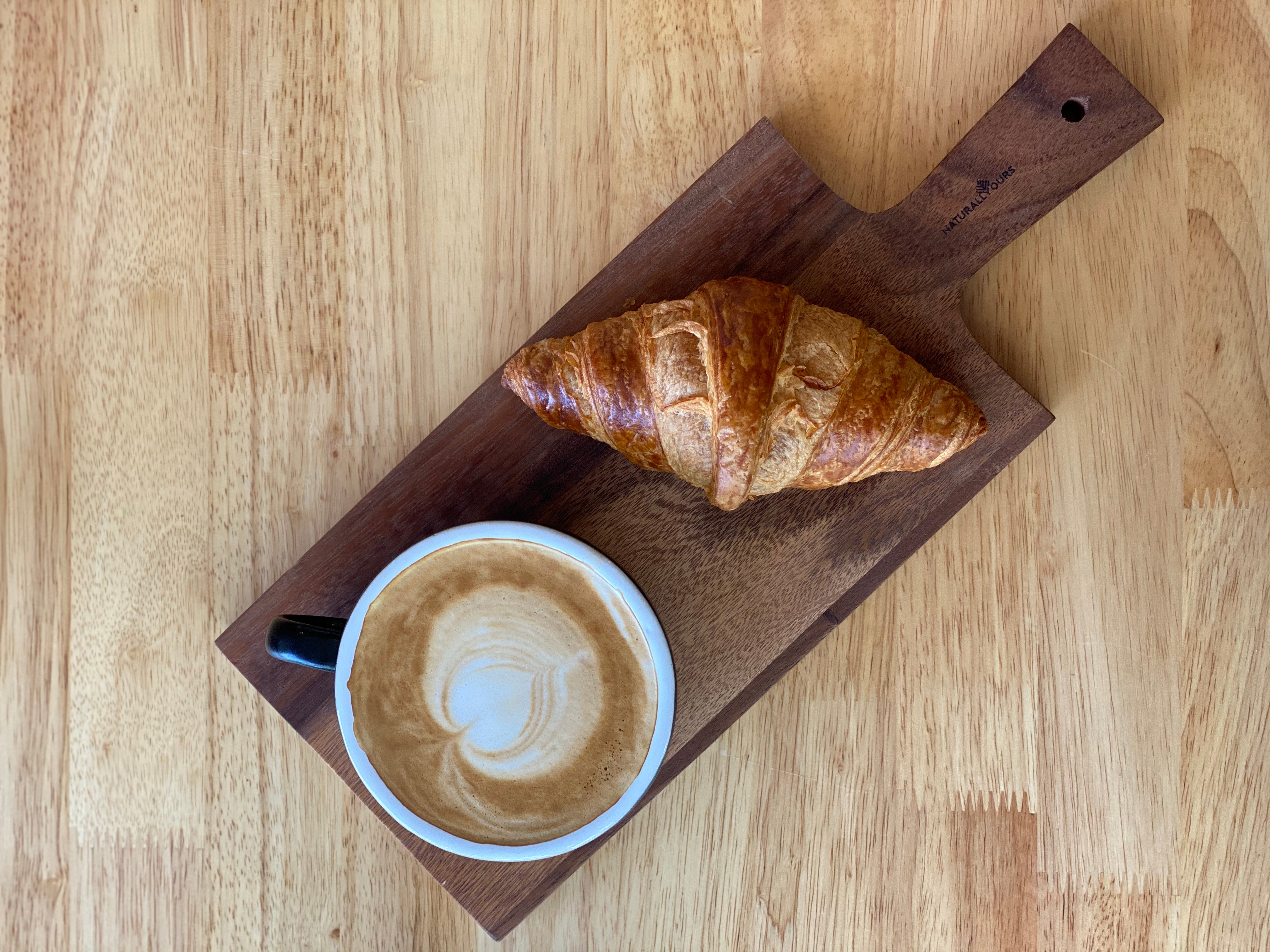 At 154, a family goes well beyond the ties of blood or matrimony. Warm greetings abound, stepping into the cafe can remind customers of the city's inviting embrace as it has long provided a sanctuary for creative minds across the country. The cafe has even been witness to many school and university friends reuniting for the first time in years. All those who enter the bustling space in Koramangala 4th Block are welcomed with the same gusto as one would enter an Indian household. After all, the staff of 154 have been a close-knit family since the launch with almost every employee pledging their allegiance to the cafe despite the protracted global health crisis. 
Battling the COVID-19 Pandemic
As I asked how the cafe has managed the pandemic as it steers well into its second year, and the most devastating wave of fatalities in India, Nishyarth takes a long breath before reminding me that the more appropriate term would be to cope, rather than manage. 
While take-aways are allowed, the essence of a community space for innovation and reunification is lost. The #NewNormal may have allowed many to cope with the tumultuous global environment, but for small businesses like 154 Breakfast Club, a new normal may be devastating. If the current wave of infections in the city cannot be mitigated in time, the cafe, like many others in the city and across the globe, might have to resort to drastic changes. 
However, the cafe continues to fight against the hurdles it faces. Staff are supported to every measure possible and Nishyarth is steadfast in preventing the corporatisation of the venture. The loyalty and pride associated with being a citizen of this thriving city is the core pillar of 154 Breakfast Club.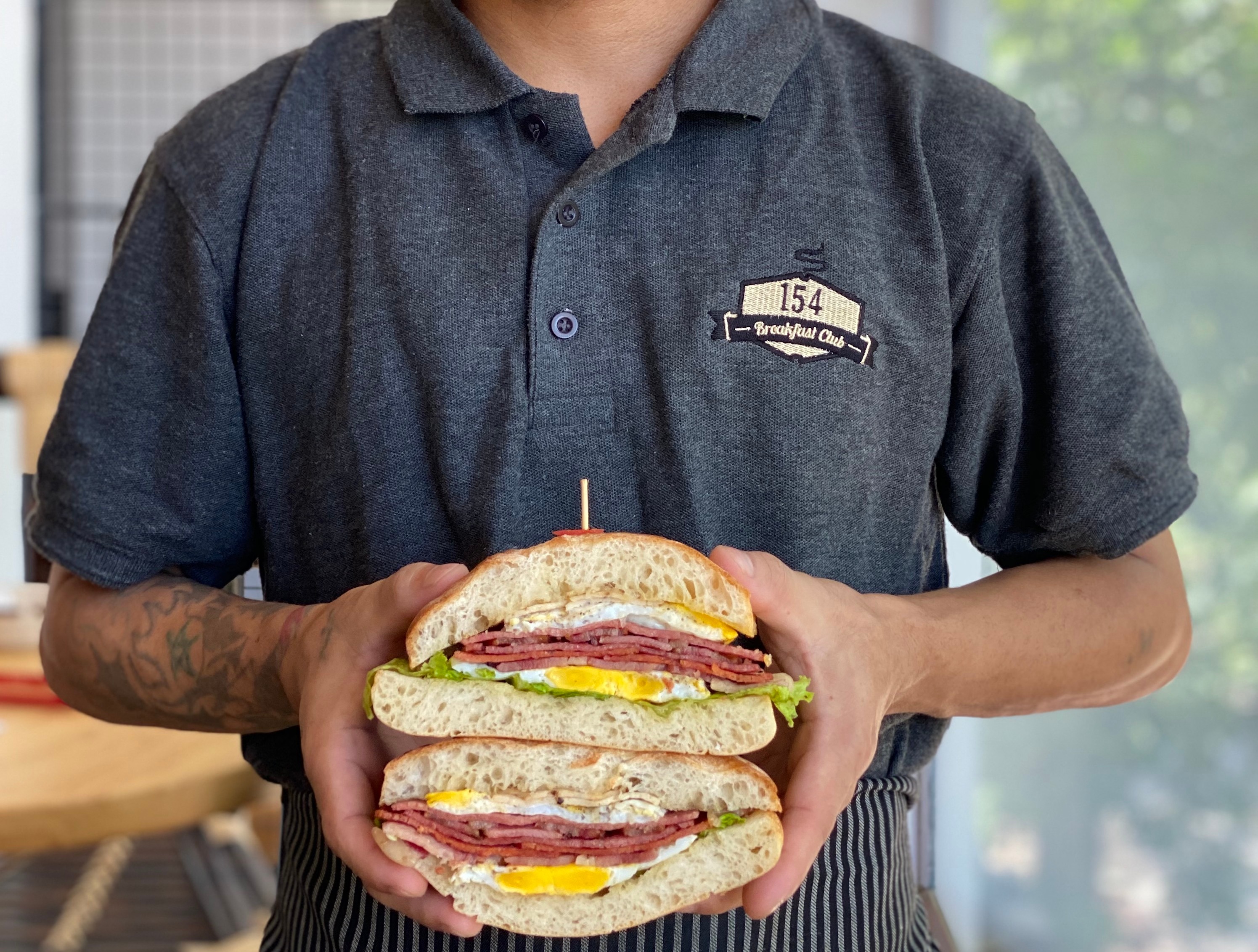 With the conversation invariably returning to our shared love for the city, Nishyarth notes how "Bengaluru is a wonderful place, and we love our city! We love how welcoming our people are, we love how invigorating the professional ecosystem in this city has become, and we aspire to be part of a bigger and better Bangalore. This is our small contribution to amplify a healthy and vibrant community of entrepreneurs, adventurers, and dreamers - young and old."
With unmatched service, impeccable dining and exciting new expansions, it seems 154 Breakfast Club has little to fear. In due course, the business will be back to welcoming families and innovators so I suggest keeping an eye out for the easing of lockdown as this is one place you definitely cannot miss. For those who may not be able to celebrate great food and end of restrictions in person at 8th Main in Koramangala's hectic 4th Block, deliveries from the cafe are ensured through Zomato. Don't forget to follow 154 Breakfast Club on Instagram and Facebook and become a member of this incredible Bengaluru community.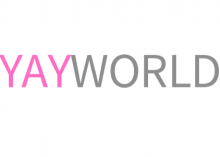 Discover Local Brands & Businesses